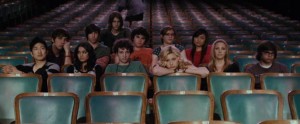 I don't know if I should hate myself for watching a Vanessa Hudgens movie. I guess I can admit to once watching Camp Rock when it was on the TV. I guess if I've stooped as low as the Jonas Brothers, Hudgens is only a small step away from that.
Anyway, its 4am, but a bloody cicada has got inside, and is bleeting away. So as a result, I watched the Hudgens movie 'Bandslam'.
Right, so aside from the already stated fact of Hudgens being once of the central characters in this film, I should tell you it is set in a fictional New Jersey high school. Will Burton (Gaelan Connell) has recently started at the school and is a bit of an indie music snob. He thinks this school will be just the same as his old one, however he meets Charlotte (Aly Michalka) and it all changes. She has a rock band, Will has his rock snob critical eye on how to make them better. He talks a lot of wank and they decide he should manage the band.
Using his indie savvy he enlists a horn section, a cellist and a keyboard player… (to make things a little more Arcade Fire).
Meanwhile he is paired with Sa5m – 'the 5 is silent' (Vanessa Hudgens), a musically talented and aloof classmate to do a project, where Will must present who the real Sa5m is.
Cue cutesy montages of them discovering each other… not in a dirty way, this is quite G rated you know.
Also in this movie is Lisa Kudrow, you know, the quirky one from 'Friends'? Yeah, she plays Will's mum.
One of the key devices used in this film, as opposed to the typical Dear Diary voice over, is that Will writes emails to David Bowie. Hmm, Twee. As a result, expect to see a bit of a Bowie cameo if you dare watch this disneyesque flick. Oh and there is a band competition that needs winning called Bandslam, but that's kinda secondary to the rest of the film.